Finally we are approaching a glorious Calgary summer. This is my favourite time of the year, the city truly comes alive! The season of outdoor festivals, markets, barbecues and day-trips to the mountains is here and I couldn't be more thrilled.
With the Calgary Stampede just around the corner, I am in full summer swing, and that includes the continued spurt in sales city-wide. Although inventory levels eased and sales increased in May 2019, it wasn't quite enough to suppress the levels of supply that the months have accumulated.
I wish you and your families a wonderful June!
Cheers,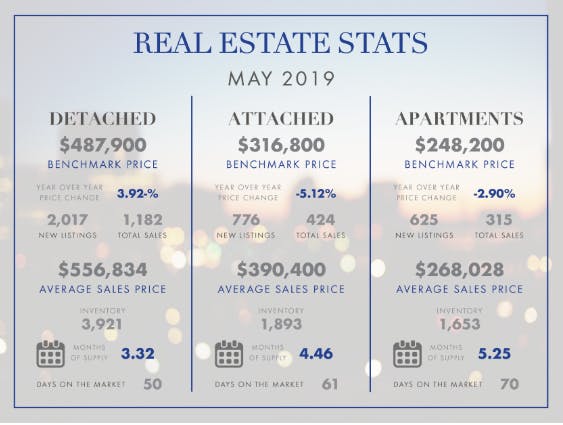 Sales activity improves for second consecutive month
City of Calgary, June 3 2019 – Sales growth in May was met with a decline in new listings. This combination eased the pressure on inventory levels, which finished the month at 7,467 units, a decline of 12 per cent compared to last year. Improving sales relative to inventory levels caused the months of supply to ease to just under four months. While still oversupplied, this is an improvement from the five months of supply recorded last May. Citywide sales in May totalled 1,921 units, 11 per cent higher than last year's levels. However, sales remain 10 per cent below longer-term trends. This sales growth was primarily driven by homes prices under $500,000. "While sales activity remains low based on historical activity for May, the easing prices have brought some people back to market, while also preventing some others from listing their homes," said CREB® chief economist Ann-Marie Lurie. "This has started to push the market towards more balanced conditions. If this trend continues, it could limit some of the downward pressure on prices." Citywide benchmark prices totalled $423,100 in May. Prices have shown some signs of improvement month-over-month, but remain four per cent lower than 2018 levels.
What does this mean for you as a future buyer or seller in Calgary? Drop me a line, I'd love to help.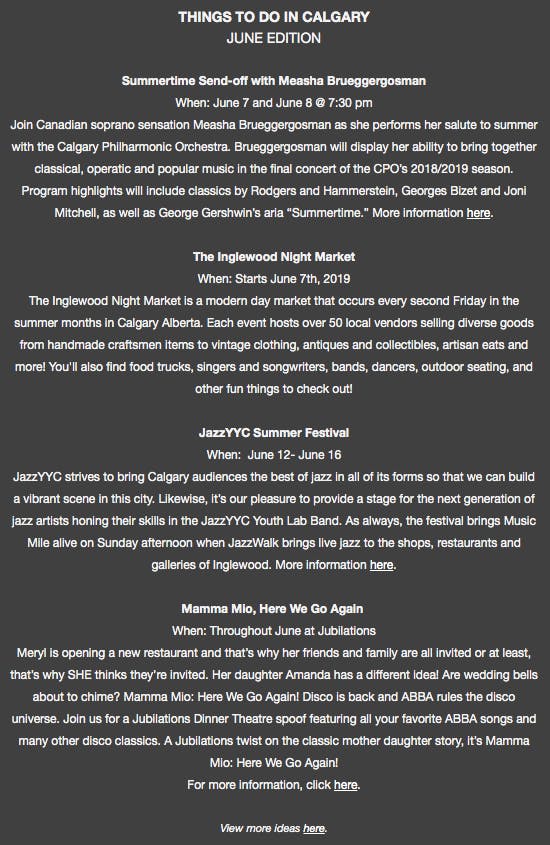 And if you ask me, it is never too early to start thinking about Stampede Breakfasts. Here are some below, so you can plan your stampede around them… I know I will be!
Dalhousie Church Stampede Breakfast 
June 23 @ 10:00 am – 12:00 pm
Dalhousie Church, 5511 Baroc Rd NW Calgary
Free pancake breakfast with entertainment for everyone – live music, inflatables, games, and more! Bring your friends & family! Gluten free options will be available.

Marlborough Mall
July 6 @ 9:00 am – 11:00 am
433 Marlborough Way NE

Westside Stampede Caravan Breakfast 
July 6 @ 9:00 am – 11:00 am
Westside Recreation Centre, 2000 – 69 Street SW
Free pancake breakfast, live entertainment stage, pony rides, petting zoo, games and activities for the whole family.
Cenovus Family Day Breakfast
July 7 @ 8:30 am – 11:00 am
Calgary Stampede, Saddledome Steps

CrossIron Mills
July 8 @ 9:00 am – 11:00 am
261055 CrossIron Blvd.

North Hill Shopping Centre
July 8 @ 9:00 am – 11:00 am
1632 14 Avenue NW

Market Mall Shopping Centre
July 9 @ 9:00 am – 11:00 am
3625 Shaganappi Trail NW

Southcentre Shopping Centre
July 10 @ 9:00 am – 11:00 am
100 Anderson Rd. SW

Southland Leisure Centre
July 8 @ 9:00 am – 11:00 am
2000 Southland Drive SW

McKenzie Towne Centre
July 8 @ 9:00 am – 11:00 am
20 McKenzie Towne Avenue SE
Happy Summer! I hope you are enjoying the beautiful warmer weather and will touch base next month!